Here's an Old Irish joke I found today that's been translated into many languages, including Classical Nahuatl, Sanskrit and Cherokee.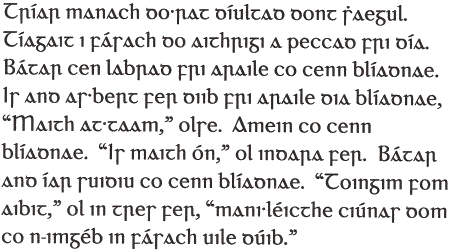 This is the Modern Irish version:
Triúr manach a thug diúltú don saol.
Téann siad ins an fhásach chun aithrí a dhéanamh ina gcuid peacaí roimh Dhia.
Bhí siad gan labhairt lena chéile go ceann bliana.
Ansin dúirt fear díobh le fear eile bliain amháin ina dhiaidh sin, "Táimid go maith," ar seisean.
Mar sin go ceann bliana.
"Is maith go deimhin," arsa an dara fear.
Bhí siad ann ina dhiaidh sin go ceann bliana.
"Dar m'aibíd," arsa an treas fear, "mura ligeann sibh ciúnas dom fágfaidh mé an fásach uile daoibh!"
And the English version:
Three monks turned their back on the world.
They went into the wilderness to repent their sins before God.
They did not speak to one another for a year.
At the end of the year, one of them spoke up and said, "We're doing okay."
Another year passed in silence.
"Yes we are," said the second man.
And so another year passed.
"I swear by my robe," said the third man, "if you two don't be quiet I'm out of here!"
There is also background information about the joke in English, Irish, French, Spanish and a number of other languages, and even a recording of it in Old Irish (mp3).