A visitor to Omniglot would like your help deciphering the writing below. It comes from an old silk painting which appears Chinese, or maybe Japanese.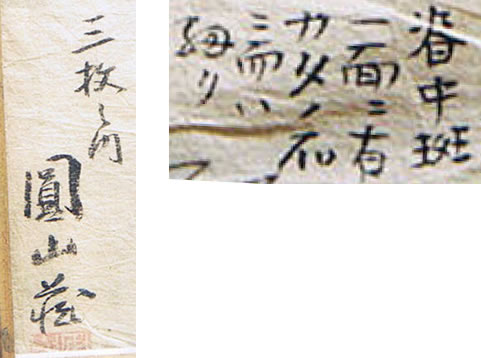 The bit on the left appears to be a signature which I think is 三抆向 (San Wenxiang) and perhaps the name of a town 圓山? (Yuanshan ?) – a small town in Taiwan.
The other bit of writing might be a poem, though I can't make out all of the characters (reading vertically from right to left): 昚中斑 (shèn zhōng​ bān) 一面二有​ (yī​ miàn èr yǒu​). The characters in the third row from the right might be Chinese hanzi: 力夕?石 (lì xī​ ? shí), or Japanese katakana: カタノ石 (ka ta no shiki), and in the next line 二而? (èr ér ?). I'm not sure about the characters in the last line.