Visual Binary Cube
The Visual Binary (VB) Cube Alphabet was created by Graeme Kilshaw to empower people from every kind of background and educational standing. Visual Binary Cube enables the deaf to read lips more easily as VB is sorted according to the shape of the lips when making sounds. Visual Binary Cube enables the blind to see with a tangible thumb-keyboard that has buttons pressed down to send signals, and buttons raised up to receive symbols (like Braille).
Visual Binary Cube was designed as a communications system for unity, peace, security, and prosperity, facilitating cross-cultural dialogue and meaningful exchanges leading to win-win scenarios. It is possible to phonetically translate most languages into binary cube-code or Visual Binary.
Notable features
Type of writing system: alphabet
Used to write: English
Visual Binary Cube Alphabet
Visual Binary Cube may be able to replace the old International Phonetic Alphabet. Visual Binary can write in any direction, including the third 3D dimension. Graeme Kilshaw aims to make Visual Binary an international standard for Personal Computers and mobile devices.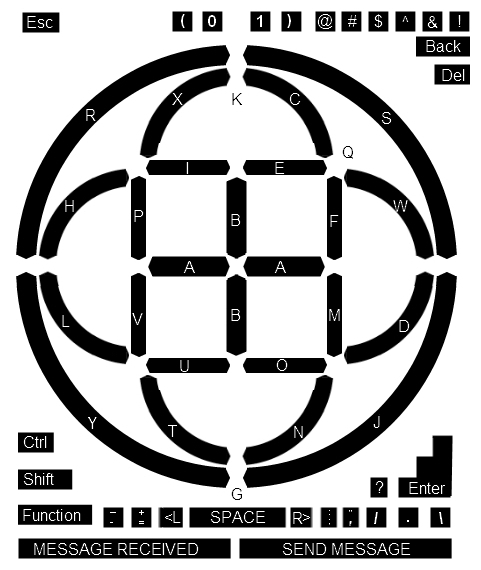 Differentiating Visual Binary Cube from other alphabets is how the cube interfaces like a wireless keyboard. Pattern recognition software utilizes the camera above the screen to facilitate interactions teaching memory, strategy, binary literacy, and more. In addition to the cube graphic user interface, there is a secondary Visual Binary input device, the VB Thumb Keyboard. The Visual Binary Thumb-Keyboard can be installed onto mobile, palm-held devices. The Thumb Keyboard has been designed for this era of ubiquitous computing on the Semantic Web.
Fonts
Use the images here to create the standard and universally accepted and recognized Visual Binary fonts of the future today. Once the fonts are spread, we will all be more and more able to seriously utilize Visual Binary for peace, security, prosperity, and human rights applications.
For additional fonts in Visual Binary, I am hosting an international competition. It will be interesting to see the best from Japan and the U.S.A. coming together to form synergy and creative expression.
http://typophile.com/node/79737