Unal
Unal (short for "Universal Alphabet") was created by Alex Mason in October 2005. The idea behind Unal was to create an alphabet that could be used to write all western European languages as well as basic Cyrillic. Because of the similarity in the letters, Unal Cyrillic can easily be transliterated to Latin and vice-versa. Unal is Alex's 13th Con-script and the first he found complete enough to submit to Omniglot.
Notable features
Unal is written from left to right in horizontal rows.
Similar to Greek, Unal has an initial-medial as well as a final form for the letter "S".
Has the special characters and accents necessary to write: English, French, Spanish, Portuguese, Italian, German, Dutch, Irish, Scottish Gaelic, Swedish, Norwegian, Finnish, Danish and Icelandic.
Has been adapted to write Russian.
Unal Latin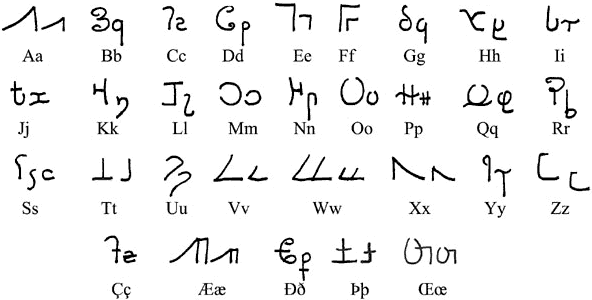 Unal accents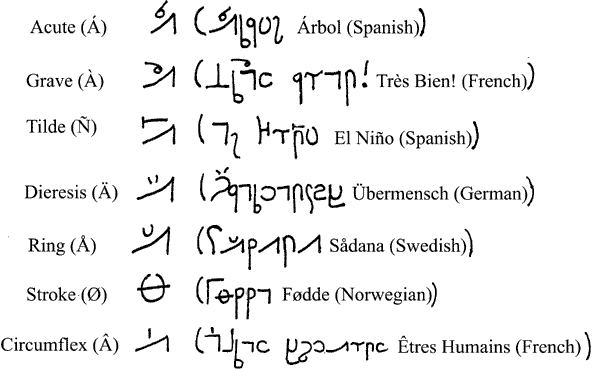 Unal Cyrillic
Unal numerals

Sample text in Unal Latin (French)

Transliteration
Tous les êtres humains naissent libres et égaux en dignité et en droits. Ils sont doués de raison et de conscience et doivent agir les uns envers les autres dans un esprit de fraternité
Sample text in Unal Cyrillic (Russian)

Transliteration
Все люди рождаются свободными и равными в своем достоинстве и правах. Они наделены разумом и совестью и должны поступать в отношении друг друга в духе братства.
Translation
All human beings are born free and equal in dignity and rights. They are endowed with reason and conscience and should act towards one another in a spirit of brotherhood.
(Article 1 of the Universal Declaration of Human Rights)
If you have any questions about Unal, you can contact Alex Mason at yurimaru@sympatico.ca
Other writing systems invented by visitors to this site