Posiga alphabet
Origin
The Posiga alphabet was invented by Renea (RokSuks2RapRuls [at] aol.com) in 2003. It is Renea's first alternative writing system and was inspired by many visits to this site.
Some random facts about Posiga:
The letters are based on yoga poses and the punctuation marks are random geometrical shapes.
All numbers are spelled out, though Renea may come up with a shorthand system in the near future.
It was created in the early fall of 2003.
It can be used to communicate (gossip) silently in yoga classes.
It is written from left to right, and can be used for English and other languages which use the basic Latin alphabet.
The name Posiga is a combination of the words "pose" and "yoga".
The Posiga alphabet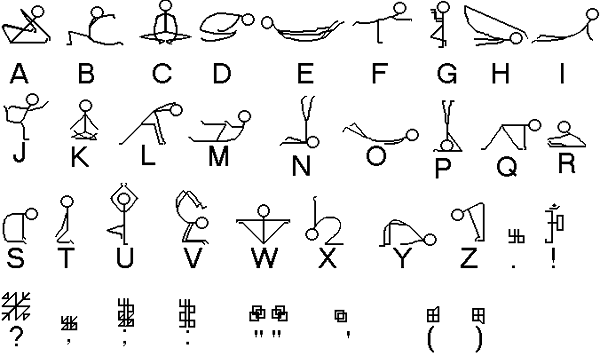 Sample text
Transliteration
I think; therefore I am.
Other writing systems invented by visitors to this site