Mòcheno (Bersntolerisch)
Mòcheno is a variety of Upper German spoken mainly in three towns in the Mocheni Valley (Bersntol/Valle del Fersina) in Trentino in northeastern Italy by about 1,660 people. It is closely related to Bavarian and is sometimes classified as a variety of Southern Bavarian. Mòcheno can apparently understand Bavarian, Cimbrian and German, however German speakers find Mòcheno difficult to understand.
Mòcheno is known as Bersntolerisch, bersntoler Sproch or taitsch by native speakers, as Fersentalerisch or Mochenisch in German, and mòcheno in Italian.
Mòcheno is officially recognised in Trentino, and is used on street signs and is taught in schools.
Mòcheno alphabet
| A a | B b | C c | D d | E e | F f | G g | H h |
| --- | --- | --- | --- | --- | --- | --- | --- |
| I i | J j | K k | L l | M m | N n | O o | P p |
| Q q | R r | S s | T t | U u | V v | Z z | |
Mòcheno pronunciation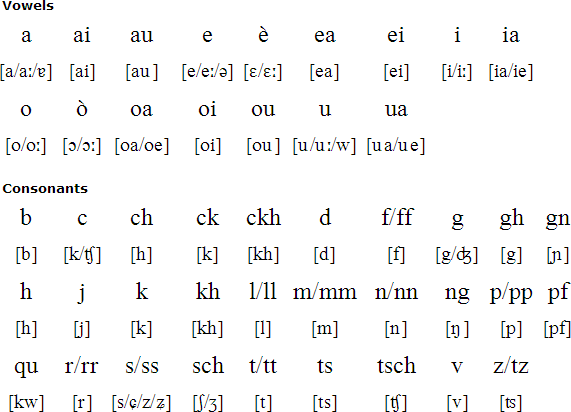 Notes
c = [ʧ] before e or i, [k] elsewhere
ckh = [kx] in Bolzano and in Switzerland
g = [ʤ] before e or i, [g] elsewhere
kh = [kx] in Bolzano and in Switzerland
z/tz = [tθ] in Trentino dialect
z and q are only used in loanwords, mainly Italian. w, x and y are only used in loanwords and in foreign names.
Source: http://www.kib.it/docs/download.asp?ID=12 (PDF)
Sample text in Mòcheno
Ber lem en a pèrgtoll vèrr zboa'sk kilometre va Trea't. Ver lonka zait hober gahòltn ont galearnt de inger kultur ont de ingern praich, s tol bou as der sai' kemmen en de leist zait van XIII jorhundert, trok de zoachen va de inger kultur.
Translation
We live in an alpine valley 20 km from Trento. For a long time, we maintain our culture and our traditions.The territory of the valley where we started at the end of the thirteenth century, bears the marks of our original culture.
Details provided by Michael Peter Füstumum
Links
Information about Mòcheno
https://en.wikipedia.org/wiki/M%C3%B2cheno_language
http://www.ethnologue.com/language/mhn
Germanic languages
Afrikaans, Alsatian, Bavarian, Cimbrian, Danish, Dutch, Elfdalian, English, Faroese, Flemish, German, Gothic, Gottscheerish, Hunsrik, Icelandic, Limburgish, Low German, Luxembourgish, Mòcheno, Norn, North Frisian, Norwegian, Old English, Old Norse, Pennsylvania German, Ripuarian, Saterland Frisian, Scots, Shetland(ic), Stellingwarfs, Swedish, Swiss German, West Frisian, Wymysorys, Yiddish
Other languages written with the Latin alphabet