Delaware (Lenape/Unami)
Delaware is an Algonquian language originally spoken in New Jersey, Delaware and Pennsylvania. There are no fully fluent speakers, however the language is currently being revived. Related languages include Southern Delaware or Nanticoke, which is extinct, and Munsee Delaware, which is spoken by a small number of elders in Ontario. These languages are not mutually intelligible.
The native name for the Delaware language and people, Lenape, means "original people". The Unami or Wënami were a group of Delawares who lived south of the Raritan River and the Delaware Water Gap. The Delaware word for house, wikwam, is probably the origin of the English word wigwam.
Delaware pronuncation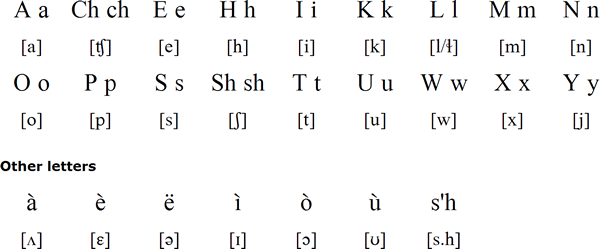 Notes
Voiced sounds only occur after a nasal. B comes after an M, and the others after N.
Sample text in Delaware (Silent Night)
Wèmi pilët, ahi chitkwe
Kwishkwei piskèke
Sapëlee òkai nèk nisha
Pilsit mimëns ahi tànktitit
Nalai kawiyok
Nalai kawiyok.
Wèmi pilët, ahi chitkwe
Nanàngihëleyok
Wëlësëwakàn òs'hakaming
Enjëlàk asuhatuwàk
Christ ènda mitahpit
Christ ènda mitahpit

Wèmi pilët, ahi chitkwe
Kètantuwit kwisa
Osëlee wënji wëshkingung
Pilët ènda pètapànge
Jesus Këmitahpi!
Jesus Këmitahpi!
Source: http://silentnight.web.za/translate/lenape.htm
Information about Delaware | Numbers in Delaware
Links
Information about the Delaware languages
http://www.native-languages.org/lenape.htm
http://en.wikipedia.org/wiki/Delaware_languages
Delaware (Lenape) Tribe of Indians - includes a list of common Delaware words and phrases with audio: http://www.delawaretribeofindians.nsn.us
The Lenape Language - a guide to pronunciation with some words and phrases
http://www.web-savvy.com/river/Schuylkill/new_lenape.html
Standing Bear's Language Page: Common Words and Phrases in Lenape
http://www.jersey.net/~standingbear/language.htm
The Lenape / English Dictionary
http://www.gilwell.com/lenape/
Algonquian languages
Other languages written with the Latin alphabet