Afrikaans
Afrikaans is 'n Lae Frankiese Wes-Germaanse taal wat afkomstig is uit Nederlands, en meestal in Suid Afrika en Namibië gepraat word. Daar is ook Afrikaanssprekende persone in Australië, België, Botswana, Kanada, Duitsland, Lesotho, Malawi, Nederland, Nieu-Seeland, die Verenigde Koninkryk, die VSA, Zambië en Zimbabwe. Sowat 10 miljoen mense praat Afrikaans as 'n eerste of tweede taal, en miljoene ander het 'n basiese kennis van die taal.
Afrikaans behou sekere eienskappe van Nederlands uit die 18de eeu, asook 'n woordeskat vanuit verskeie Bantu- en Khoisantale, en ook van Portugees en Maleis. Afrikaanssprekende mense kan Nederlands verstaan, alhoewel Nederlandsprekendes 'n rukkie nodig het om gewoond te raak aan Afrikaans.
Sedert ongeveer 1815 het Afrikaans Maleis begin vervang as die onderrigtaal in Moslem-skole in Suid Afrika. In daardie jare was dit geskryf met die Arabiese alfabet. Afrikaans, geskryf met die Latynse alfabet, het begin verskyn in koerante en geskrewe stukke oor politiek en godsdiens teen ongeveer 1850. In 1875 het 'n groep Afrikaanssprekende mense van die Kaap die Genootskap vir Regte Afrikaanders gestig, en 'n aantal boeke in Afrikaans gepubliseer, insluitend boeke oor grammatikas, woordeboeke, godsdienstige leesstof en geskiedenis. Hulle het ook 'n joernaal gepubliseer genaamd Die Patriot.
Gedurende die vroeë jare van die 20ste eeu was daar 'n baie skerp toename in akademiese belangstelling van Afrikaans. In 1925 was Afrikaans erken deur die regering as 'n werklike taal, eerder as 'n informele weergawe van Nederlands. Afrikaans het baie min verander sedert daardie tyd.
Translated into Afrikaans by Dirk Liebenberg
Afrikaans alfabet
| A a | B b | C c | D d | E e | F f | G g | H h | I i |
| --- | --- | --- | --- | --- | --- | --- | --- | --- |
| aa | bee | see | dee | ee | ef | gee | haa | ie |
| J j | K k | L l | M m | N n | O o | P p | Q q | R r |
| jee | kaa | el | em | en | oo | pee | kuu | er |
| S s | T t | U u | V v | W w | X x | Y y | Z z | |
| es | tee | uu | vee | wee | ex | y | set | |
Afrikaans pronunciation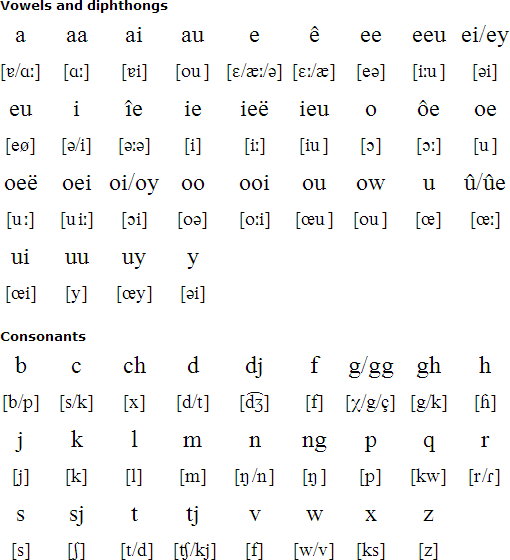 au, ey, oy/oi and uy are not used in modern writing, apart from loanwords and proper nouns. ou, ei, ooi and ui are used instead.
b = [p] at the end of a word, [b] elsewhere
c = [s] before e, i or y, [k] elsewhere
d = [t] at the end of a word, [d] elsewhere
e = [æ] in some words, e.g. ek (I), berg (mountain), skêr (scissors), though in the dialect of Cape Town, Kaaps, the e in these words = [ɛ]
g = [g] between l/r and e, [x] elsewhere
gh = [k] at the end of a word, [g] elsewhere
n = [ŋ] before c, k, q or x, [n] elsewhere
In some dialects of Afrikaans -ns nasalizes the previous vowel and a mutes the n, eg: Afrikaans [afrɪ'kɑ̃ːs] and ons [ɔ̃ːs]).
tj = [ʧ] at the beginning of a word, [kj] in -tjie
w = [w] after a consonant, [v] elsewhere
Download Afrikaans alphabet charts (Excel)
Sample text in Afrikaans
Alle menslike wesens word vry, met gelyke waardigheid en regte, gebore. Hulle het rede en gewete en behoort in die gees van broederskap teenoor mekaar op te tree.
Hear a recording of this text by Marius Kock
Translation
All human beings are born free and equal in dignity and rights. They are endowed with reason and conscience and should act towards one another in a spirit of brotherhood.
(Article 1 of the Universal Declaration of Human Rights)
Sample video in Afrikaans
See more videos like this on Wikitongues
Information about Afrikaans | Phrases | Family words | Telling the time | Tower of Babel | Learning materials
Links
Information about Afrikaans
http://en.wikipedia.org/wiki/Afrikaans
http://www.lowlands-l.net/anniversary/afrikaans-intro.php
https://aie.ned.univie.ac.at
Online Afrikaans lessons
http://www.openlanguages.net/afrikaans
http://polymath.org/afrikaans.php
http://www.heinsuniverse.com/afrikaans.html
http://www.youtube.com/view_play_list?p=1F35850FA7D1B151
Hear the sounds of the Arikaans alphabet
http://www.sois.uwm.edu/afrikaans/pronunciation/alphabet.html
Afrikaans and Dutch humour newsletter
http://grappies.com
Afrikaans phrases
http://www.exploresouthafrica.net/phrasebook.htm
http://www.downloadalanguage.com/downloadalanguage/Afrikaans_phrases.html
http://www.easyafrikaans.com/easyafrikaans/Useful_Phrases.html
http://miejipang.homestead.com/untitled4.html
Online Afrikaans dictionaries
http://interpret.co.za/html/dictionary.php
http://www.freelang.net/online/afrikaans.php
http://www.freedict.com/onldict/afr.html
http://www.dicts.info/dictionary.php?l1=English&l2=Afrikaans
http://www.rieme.co.za/woordeboek.asp?t=1
Online Afrikaans Radio
http://www.rsg.co.za/
Online news Afrikaans
http://www.volksblad.com
http://www.rapport.co.za
http://www.dieburger.com
http://maroelamedia.co.za
http://www.beeld.com/
Germanic languages
Afrikaans, Alsatian, Bavarian, Cimbrian, Danish, Dutch, Elfdalian, English, Faroese, Flemish, German, Gothic, Gottscheerish, Hunsrik, Icelandic, Limburgish, Low German, Luxembourgish, Mòcheno, Norn, North Frisian, Norwegian, Old English, Old Norse, Pennsylvania German, Ripuarian, Saterland Frisian, Scots, Shetland(ic), Stellingwarfs, Swedish, Swiss German, West Frisian, Wymysorys, Yiddish
Other languages written with the Latin alphabet