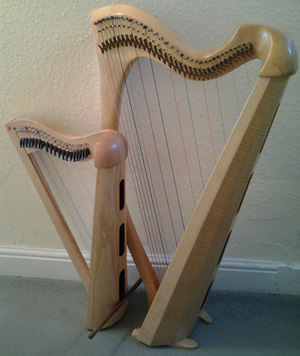 Mae fy nhelyn newydd wedi cyrraedd y bore 'ma. Telyn efo 34 tannau o'r enw Ossian Clarsach gan Tim Hampson ydy hi.
Pan ro'n i yn Plymouth dwy wythnos yn ôl yn ymweld â fy chwaer, mi es i i Bere Ferrers, nid mor bell o Plymouth, i gwrdd â Tim Hampson ac i weld y delyn. Mae o'n gwneud atgynhyrchiadau o delynau hanesyddol, ac yn atgyweirio telynau hefyd, ac roedd hi'n ddiddorol iawn gweld ei weithdy ac sut mae o'n gwneud telynau. Mae'r delyn Ossian wedi ei seilio ar delynau y 1930au a 1940au gwneud gan Henry Briggs yn Glasgow. Dw i wedi canu hi am oriau heddiw yn barod, ac mae hi'n swnio yn wych, ac yn edrych yn wych hefyd.
Yn y ffoto mae fy nhelyn newydd, a fy nhelyn bach y brynes i y llynedd.
My new harp arrived this morning. It's a 34 string Ossian Clarsach made by Tim Hampson.
While I was in Plymouth visiting my sister a few weeks ago, I went to to Bere Ferrers, not far from Plymouth, to meet Tim Hampson and to see the harp. He makes reproductions of historical harps, and repairs and services harps as well, and it was fascinating to see his workshop and how he makes harps. The Ossian harp is based on harps made in the 1930s and 1940s by Henry Briggs in Glasgow. I've already played it for several hours today, and it sounds wonderful, and looks good too.
The photo shows my new harp with my little lap harp, which I got last year.