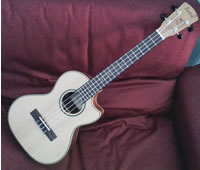 Bha ceathrar againn ann ann an cearcall còmhraidh iol-chainnteach an-raoir, fiù balach às an t-Suain a bhith Suainis, Beurla agus Innis Tìlis fileanta aige, agus a bhith ag ionnsachadh cànanachas. Bhruidhinn sinn mu dhéidhinn na cànain Lochlannaiche agus iommadh rud eile.
An-diugh thàinig mo chlàirneid air ais an-déidh càiridhean, agus tha i fada nas fheàrr nís. Bha mi a' smaoineachadh air i a' reic, ach chan eil mi cho cinnteach mu dhéidhinn sin nís. Thàinig mo ukulele ùr an-diugh cuideachd – ukulele tenor a tha ann agus tha i cho àlainn agus tha fuaim uabhasach math oirre.
Bhí ceithre againn ann sa ciorcal comhrá ilteangach aréir, lena n-áirítear buachaill as an t-Sualainn atá Sualainnis, Béarla agus Íoslainnis liofa aige, agus atá ag déanamh staidéar ar an teangeolaíocht. Labhair muid faoi na teangacha Lochlannacha, agus faoi go leor rudaí eile.
Tháinig mo chláirnéid ar ais inniu i ndiaidh ollchóiriú, agus tá sí i bhfad níos fearr anois. Bhí mé ag smaoineamh faoi í a dhíol, ach níl mé chomh cinnte faoi sin anois. Tháinig mo ucailéile nua freisin inniu – ucailéile teanóir atá ann agus tá í go hálainn agus tá fuaim iontach uirthi.
There were four of us in the polyglot conversation group last night, including a lad from Sweden who speaks Swedish, English and Icelandic fluently, and who is studying linguistics. We talked about the Scandinavian languages, and about many other things.
My clarinet came back today after being serviced and repaired, and it's much better now. I was thinking about selling it, but I'm not so sure about that now. My new ukulele also arrived today – an electro-acoustic tenor that's beautiful and has a great sound.