Mae'r nifer o offerynnau yn fy filodfa gerddorol wedi cynyddu eleni, ac mae gen i 30 o offerynnau bellach. Yr offeryn mwyaf newydd ydy piano, sy wedi cyrraedd Dydd Gwener diwetha. Piano ail law ydy o, a dw i wedi ei brynnu o eBay o ddyn yn Salford.
Ar hyn bryd mae gen i piano, iwcalili, mandolin, bouzouki, bodhrán, xaphoon, clarinét, casŵ, ffliwt, dau gitâr, dau harmonica, a cryn dipyn o recorderau, chwibanau ac ocarinas.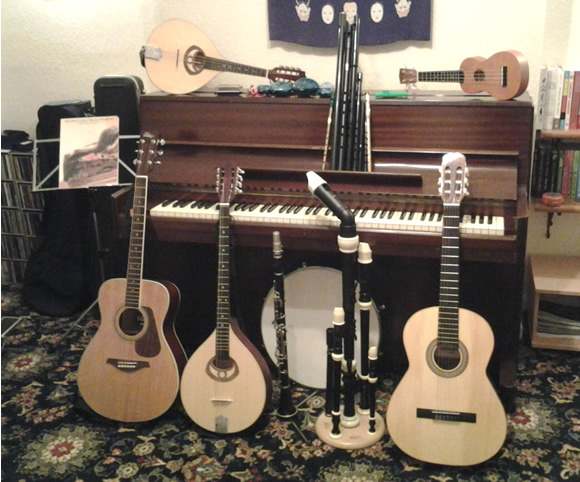 My musical menagerie has grown quite a bit this year and now includes 30 instruments. The newest addition was a piano, which arrived last Friday. It's a second hand piano that I bought on eBay from a bloke in Salford.
The menagerie currently consists of: a piano, a ukulele, a mandolin, a bouzouki, a bodhrán, a xaphoon, a clarinet, a kazoo, a flute, two guitars, two harmonicas, and quite a few recorders, whistles and ocarinas.