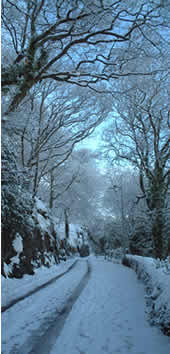 I wrote a new song today entitled "Make the most of it while it lasts". The beginnings of the tune came to me this morning when I was brushing my teeth, and the first few lines came to me while I was washing the dishes after lunch. I looked out of the window and saw that it was raining heavily, and decided to write something about the rain. This is what I came up with:
Make the most of it while it lasts
When the rain falls from the sky
Don't you fret, don't you cry
Just put on your boots and go outside.
Jump in puddles and go wild.
And release your inner child.
Then you won't feel so blue any more.
When the temperature is falling
And the weather is appalling
It's good to stay indoors sometimes.
To read a book, or watch a film
Or sing a song, or play some tunes
Or just to sit by the fire and doze.
So when the winter time has come
And you're feeling rather glum
Don't forget to smile and sing and dance.
Paint some pictures, bake some cakes
Talk to friends, skate on lakes,
And make the most of it while it lasts.
Here's a recording: