Hey guys, I'm making a conscript that could
theoretically
be used with most languages (at least Latin based ones) because it's based around the IPA. I'm gonna submit this to the main site after it's all finished AND I've started making a conlang to go with it but I don't have very many words yet. Here's the alphabet: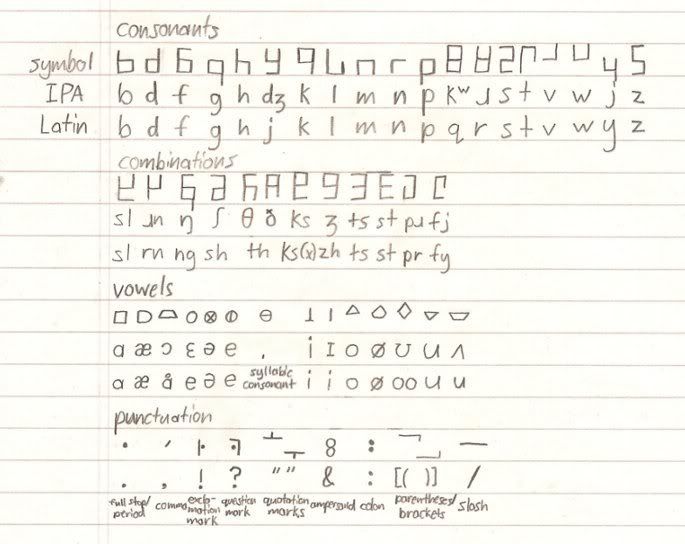 Pardon my crappy handwriting
The language itself is currently called slangwin (pronounced [slɑːŋwɪn]) but that might change later.
Now here's some sample text from The Hitchhiker's Guide to the Galaxy: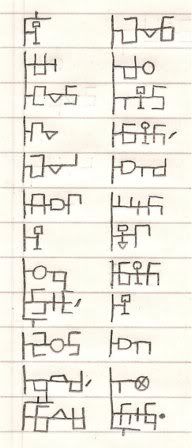 It says:
"I refuse to prove that I exist," says God, "for proof denies faith, and without faith I am nothing."
Keep in mind that it's transliterated phonetically
It's written vertically with each horizontal part representing one syllable. The glyphs are all attached to each other with horizontal lines in between each other. Do NOT exceed 4 glyphs on each syllable. Each vertical line attached to the left attaches the syllables together and shows how long the word is. Diphthongs (like the first word in the sample [aɪ]) are represented by a small vertical line with the first vowel on top and the second on the bottom. The punctuation .,!?&: are written next to the letters and the punctuation "()/ are written on the tops and bottoms of the words.
That's pretty much all I can explain so tell me what you think, any suggestions, tips for making conscripts, etc. Thanks!