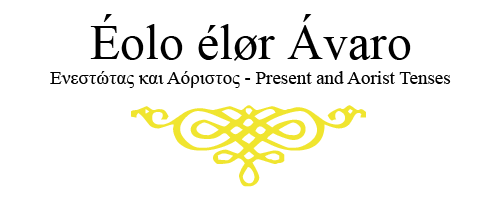 Atario has 7 tenses. These are:

Now I will be showing you the first two: the Present and the Aorist Tenses.
____________________________________________________________________________
First we need to make clear that all verbs in Atario end in -ar. Having said that, the present tense suffixes are as follow:
Present Tense example:
-Nür élvas hátr ǘltimer þánniel jontz hátr ráinharer khafé?
-Ámer! Hrívaras!
Translation:
-Do you want to go downtown to drink some some coffee?
-Yes! Get ready!
And the Aorist (Past) tense can be formed by adding a prefix and the present tense suffix:

The suffix is always e- unless followed by another e, when it becomes a-.
Aorist Tense example:
-Éregþar eǘltimer itáliul élør elíliker ehrívarë. Nür ǘlma?
-Ánna jül-elíliker állyë hrívarë…
Translation:
-Today we went to school and had a great time. You?
-We didnt have that much fun...
Notes:
The Atario equivelant of the English 'not' is the prefix 'jül-' which can be added before the word. For example:
- elíliker : we walked by / we had (a nice time)
- jül-elíliker : we didn't walk by / we didnt have (a nice time)
In Atario, whenever you ask a question you must place 'nür' at the begining of the sentense.
For example:
- eǘltimer (we went)
- nür eǘltimer? (Did we go?)
Éregþar means 'today'. It is not a verb even though it ends in -ar.