Franguli (ჶრაჼგჳლი)
Franguli is a method of writing French using the Georgian Mkhedruli alphabet devised by Baptiste Faussat. The name Franguli comes from the Georgian and Mingrelian word for French, ფრანგული (pranguli).
Notable Features
Type of writing system: alphabet.
Direction of writing: left to right, horizontal.
Used to write: French.
Franguli, just like Mkhedruli, has no uppercase or lowercase letters and uses standard punctuation and numerals.
Franguli is fully phonetic, there are no silent letters and homophones must be told apart by context.
Since there are no silent letters, liaisons are not written.
A small N (ჼ) is used as a modifier letter for four sounds.
Several letters are not used for Georgian but are used for Mingrelian, Laz or Svan.
No letters were made specifically for Franguli, but some of them have a different pronunciation.
Franguli script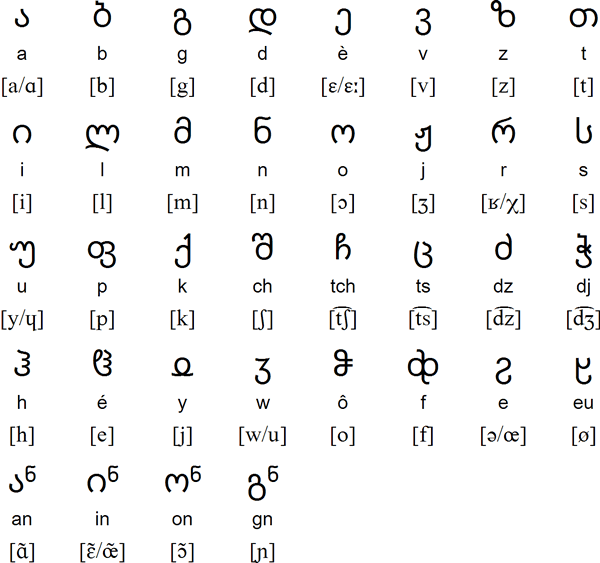 Sample text
თჳ ლჱ ეთრ უმიჼ ნეს ლიბრ ჱ ჱგჵ აჼ დიგჼითჱ ჱ აჼ დრჳა. ილ სოჼ დჳჱ დჷ რეზოჼ ჱ დჷ ქოჼსჲაჼს ჱ დჳავ აჟირ ლჱ იჼ აჼვერ ლჱ ჵთრ დაჼ იჼ ესფრი დჷ ჶრათერნითჱ.
Transliteration
Tw lé ètr umin nès libr é égô an dignité é an drwa. Il son dwé de rèzon é de konsyans é dwav ajir lé in anvèr lé ôtr dan in èspri de fratèrnité.
Original French version
Tous les êtres humains naissent libres et égaux en dignité et en droits. Ils sont doués de raison et de conscience et doivent agir les uns envers les autres dans un esprit de fraternité.
Translation
All human beings are born free and equal in dignity and rights. They are endowed with reason and conscience and should act towards one another in a spirit of brotherhood.
(Article 1 of the Universal Declaration of Human Rights)
Download an alphabet chart for Franguli (Excel)