Aksara Beringin
The Aksara Beringin script was invented by Adam Damario in 2017. It is an alternative way to write in Indonesian. The characters were modeled from the twists of the hanging roots of the beringin tree (Ficus benjamina) - the tree is also a symbol of unity - which were then modified and simplified.
Notable Features
Type of writing system: alphabet, consisting of 23 consonants, 6 vowels, and 13 characters for suffixes
Direction of writing: in vertical rows running from top to bottom and right to left
Used to write: Indonesian
Aksara Beringin script
Consonants (Huruf Konsonan)
Note: The pronunciations of V, Q and X already have their local counterparts. As such, they are only used for names and foreign words.
Vowels (Huruf Vokal)
As an example, in the word merek (brand), the first E is pronounced as É and the second as E.
Affixes (Imbuhan)
In some circumstances, affixes change according to the first letter of the base word. When using the affix character, the base form remains unaffected but the pronunciation changes still. It can also be written in the regular alphabet without the affix character as the changed form. For example:
me(n)-pisah-kan → read as memisahkan (to separate)
me(n)-sapa → read as menyapa (to greet)
Numbers and Punctuation (Angka & Tanda Baca)
Sample text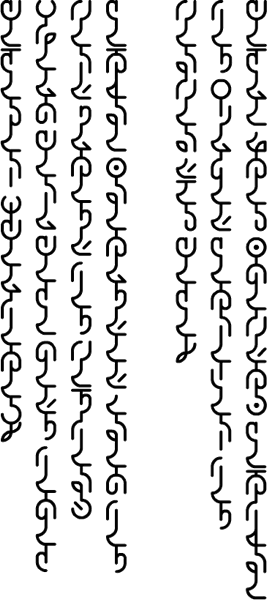 Transliteratoin
Semua orang dilahirkan merdeka dan mempunyai martabat dan hak-hak yang sama. Mereka dikaruniai akal dan hati nurani dan hendaknya bergaul satu sama lain dalam semangat persaudaraan.
Translation
All human beings are born free and equal in dignity and rights. They are endowed with reason and conscience and should act towards one another in a spirit of brotherhood.
(Article 1 of the Universal Declaration of Human Rights)
Information about Indonesian | Phrases | Numbers | Tower of Babel | Articles | Learning materials
Other constructed scripts for Indonesian and Malay