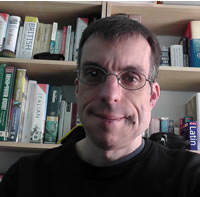 About this blog
This blog contains my musings on language, linguistics and related topics.
Who am I
My name is Simon Ager (pictured top right), I live in Bangor in Wales and earn my living from Omniglot. I speak a number of languages, and am fascinated by language and linguistics. I also enjoy listening to and making music, singing and writing songs, juggling and reading. More about me.
What's an Omniglot?
Omniglot is a word I coined back in 1998. Originally it was the name of a web design and translation business I tried to set up, and it later became the name of my Online encyclopedia of writing systems and languages.
Omniglot ('ɒmnɪˌglɒt) noun
1. having a command of all languages
2. written in, composed of, or containing all languages
3. a person with a command of all languages
4. a book containing several versions of the same text written in all languages
5. a mixture or confusion of languages
[from Latin omnis (all) + Greek γλωσσα (glossa) – tongue/language]
Adapted from the definition of polyglot in Collins English Dictionary
Guest posts
I welcome guests posts from people who blog about languages and related topics, and will also consider publishing language-related articles in the articles section of Omniglot.
Republishing posts
You're welcome to republish posts from this blog. Please include the following text: "Copyright © [Year] Simon Ager. For more language-related musing, go to Omniglot.com/blog"
Join the Omniglot fan club on Facebook