Word of the day – éolienne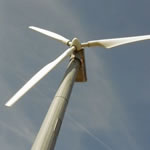 One of the things we discussed at the French conversation group last night was wind turbines, or les éoliennes in French. I hadn't heard the word before and it took me a while to work out its meaning, but I knew it had something to do with the wind as Aeolus (Αἴολος) was the ruler of the winds in Greek mythology. Eventually I realised what it was from the context.
The word aeolian also appears in aeolian harp (harpe éolienne), a harp played by the wind; aeolian processes (érosion éolienne), wind generated geologic processes; the Aeolian Islands (Les Îles Éoliennes), the Aeolian mode of music, a musical mode; and Eolianite (L'éolianite), a sandstone formed from wind transported sediment.