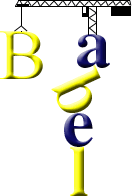 The Tower of Babel (Genesis 11: 1-9)
Torres Strait Creole (Yumplatok)
Da aiples blo Babal
I bin gad taim wen ebri pipol wea ert i bin gad wan langus wea ol ken tok lo wananada.
Wen ol dem pipol i bin wagbaut go wea istsaid, dempla bin paine platples melen wea ol maunten lo da ples blo Babilonia ane dempla bin stap de.
Den dempla bin spik po wananada, 'Wa. Yumpla go teke graun po meke brik ane bane dem brik prapa po meke dem brik strong.' Apta, dempla bin yuze ol brik po meke ol bilding blo dempla ane ol ta po meke dem brik pas tugeda.
Den dempla bin spik, 'Kam. Yumpla go bilde wan siti po yumplaselp wea i gad wan taua wea i go kese skai ane ebriting antap wea skai. Den ol pipol go luk dat yumpla gad prapa bigneim po yumplaselp, ane yumpla no nid mub go ebriwea lo ert.'
Den da AntapGod i bin kamdaun po luk dat siti ane da taua wea dem pipol i bin bildem.
Da AntapGod i bin spik, 'Wa! Dempla ebriwan ya i wan pipol ane gad wan langus wea ol tok po wananada. Diswan i kasa stat blo wanem dempla go mekem. Sottaim prom nau dempla ken meke enisamting wea dempla i wandem.
Kam. Yumpla godaun, ane gibe dempla olkain dipren langus solong dempla nogo sabe wen ol i tok po wananada.'
Wa, da AntapGod i bin mube dem pipol go prom dat platples, da ples blo Babilonia, go ausaid ebriwea lo ert, ane dem pipol i bin nomo bilde dat siti.
Dempla bin kole da siti Babal*), bikoz i bin de da AntapGod bin gibe dempla olkain dipren dipren langus solong dem pipol i bin mub go ausaid ebriwea lo ert.
*) Babal i saun wase wan wod wea langus blo dem Zuwispipol, wea i min 'mesap'.
Source: http://torresstraitbibles.org.au/Yumplatok/frame_GEN11.htm
Contributed by Wolfgang Kuhl
Torres Strait Creole is an English-based creole language spoken on Torres Strait Islands off Queensland, and northern Cape York in Australia, and along the south west coast of Papua New Guinea.
More information about Fon
http://en.wikipedia.org/wiki/Torres_Strait_Creole
http://www.ethnologue.com/language/tcs
Tower of Babel in Croele languages
Bislama, Haitian Creole, Hawaiian Pidgin, Kupang, Kriol, Papiamentu, Pijin, Seychelles Creole, Sranan Tongo, Tetun Dili, Tok Pisin, Torres Strait Creole
Other Tower of Babel translations
By language | By language family