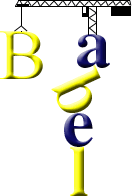 The Tower of Babel (Genesis 11: 1-9)
Windesi (Wandamen)
Sennanari aniose Babel
Kawàsa wura senkabio rami kabio siri wěnasjal senda so muran sensajoor mapar biba na utan Sinear, sentò senna na mapar nini. Ma senkabio babera, sentòpan: tannanari rěwukisi na kakòpa, tannunum si to sikarakwai, ma tannanari aniose baba, tuter anio siri tirieu to rora, ma tapèna tannanari tansanompai baba. Ma sennanari tapènal sennunum sentaur rěwukisi, ma kèsi bemetan riwàni kiru. Bape Sjen sijoor witoi kawàsa sennanari. Ma Sjen tiòpan: kawàsa wura siat besiri wěnasja, ma senkabio kabio siri rami; tanbedjoor siat ba te na witoi sensanèwèsjeen? Tanbaar so siat, ma tantòně sentadjawa babera siat ba, abo siri didjawa esi ba. Tapèna Sjen diòně senmasasepar siat so utan wura, ma senměnau pana na sennanari aniose. Ma sentap aniose arapaí: Babel, so Sjen diòně sentadjawa babera siat ba pana.
Source: Kabio Windèsi. Pandïta Windèsi: J.A. Van Balen. Biu Si Tona 1908. Ma Sijorotawan Si Ja Na 1915. Bijbelsche Geschiedenissen in de Windèsische Taal. (Ned. Nieuw-Guinea). Uitgegeven door het Nederlandsch Bijbelgenootschap. Amsterdam 1915.
Contributed by Wolfgang Kuhl
Wandamen is a Malayo-Polynesian language spoken in northwestern Papua in Indonesia.
Information about Wandamen
http://www.ethnologue.com/language/wad
https://en.wikipedia.org/wiki/Wandamen_language
Tower of Babel in Malayo-Polynesian Languages
Acehnese, Adzera, Amarasi, Ambrym, Anuki, Are, Balinese, Bambam, Bariai, Batak Angkola, Batak Simalungun, Batak Toba, Biatah Bidayuh, Bola, Bugis, Caribbean Javanese, Dawan, Fijian, Helong, Hiri Motu, Iban, Indonesian, Jarai, Kadazandusun, Kahua, Kakabai, Kambera, Kaninuwa, Kenyah, Javanese, Luang, Madurese, Makassar, Malagasy, Malay, Mbula, Misima-Paneati, Motu, Nali, Ngaju, Nias, North Efate, Nyindrou, Paama, Palawano, Rade, Rotuman, Saveeng Tuam, Suau, Sundanese, Timugon Murut, Tolai, Tontemboan, Toraja-Sa'dan, Tungag, Ubir, Wandamen, Yabem
Other Tower of Babel translations
By language | By language family