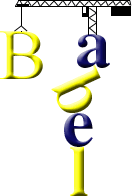 The Tower of Babel (Genesis 11: 1-9)
Southern Mam
Ri nimalaj tz'ak pa Babel
Kykyaqiltzunju' xjal toju' tq'ijlalil ojtxi' toj tkyaqil twitz tx'otx', intoq che yolin toj junx yol.
Tetzunj kyetz toju' tx'otx' ati toj tjawetzq'ij, knet jun plan tx'otx' kyu'n toju' jun tnej tx'otx' Sinar, atzuntzu' e'kub'a' najan.
Jun q'ij b'aj kma'n kxolilex: Qo'qe' b'inchal ladris ex qtzq'ajsaku' toj q'aq', chechij. Qu'mtzun ladrisju' ajb'en kyu'n te t-xel ab'j, ex q'eq q'ol ajb'en kyu'n te t-xel meskl.
Kymatzuntz: Kukytzaje', qb'inchanku' jun nintnam ex jun ja nimin twe' te b'a'npun kol, xinix twitz tx'otx' ex japumnix toj kya'j. Ajtzun tb'ent qu'n, qo' okyel nimaq qnab'l tu'ntzun lalun b'ajx qpa'nqib' toj tkyaqil twitz tx'otx', chechij.
Atzunte Qman Dyos ku'tz ka'yilteju' nintnam ex ka'yilteju' ja nimin twe' intoq jaw kyb'incha'n.
Qu'mtzun tma Qman Dyos: Aye'kye' lu noq junx tnamqe' ex junx yol nche yolina' kykyaqil; qu'mtzun matxi' tzyet kyb'inchanteju' aq'untl lu, ex mix-a'lo' jun twitz tx'otx' tu'n tmyonkye.
Qu'mtzun qoku'x chuksalteju' kyyol tu'ntzun lalun kane tyolju' jun toj twitzju' juntel, chi Dyos.
Ikytzun tu'me'lju' tb'incha Qman Dyos tu'n tb'ajx kypa'n kyib' toj tkyaqil twitz tx'otx', ex kyej kytzaqpi'n kyaq'un ljo'ntoq.
Kykyaqilju' xjal kub' chukjsa'n kyyol toju' tx'otx' lu tu'n Qman Dyos, ex eb'ajx t-slama'n toj tkyaqil twitz tx'otx'. Qu'mtzun okq'o'n tb'iju' nintnam lu, B'ab'el.
Source: Génesis. The Bible in Southern Mam. Sociedad Bíblica de Guatemala, 1980 edition.
Contributed by Wolfgang Kuhl
Southern Mam is a group of Mayan languages spoken in the Quetzaltenango and San Marcos Departments of Guatemala.
More information about Southern Mam
http://en.wikipedia.org/wiki/Mam_language
Information about Mam | Useful phrases in Mam | Tower of Babel in Mam | Mayan language learning materials | Other Mayan-related books
Tower of Babel in Mayan Languages
Aguacateco, Ch'ol of Tila, Ch'ol of Tumbalá, Chuj, Kaqchikel, K'iche', Northern Mam, Poqomchi', Q'anjob'al, Q'eqchi', Quetzaltenango Mam, Southern Mam, Tzeltal, Tzotzil, Yucatec Maya
Other Tower of Babel translations
By language | By language family