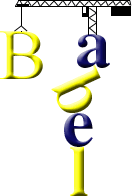 The Tower of Babel (Genesis 11: 1-9)
Kamono
Ruzahu ruzahu zamageru ru'naza naneke
Ana knafi mopafi mani'naza vahe'mo'za magoke zamageru ru'za magoke kege hu'naze.
Vahe'mo'za hage'za zge hanatitega nevu'za mago agupo mopa Sainar (Babiloni) ome kete'za, anante kuma ome ante'za mani'naze.
Mani'ne'za ke hugantugma hute'za enketa havemofo nona'a mopa kateta briki tro huta tevefi kre hanveneti'za, simenimofo nona'a fuki (kolta) eri'naze.
Anante amanage hu'naze, enketa tagrati rankuma trohuta zaza no kita monafi mrerisnunkeno, ana nomo'a ra tagi neramino arurega vuta eta hu'zanku tazeri atru hino.
Ra Anumzamo rankuma ene, zaza none, vahe'mo'za ki'naza nonku'ma kenaku erami'ne.
Ra Anumzamo eramino amanage hu'ne, zamagra magoke naga mani'ne'za magoke zamageru neraze. Amazana eri agafa hazankiza, mago'zama hunakuma hnazazana, amne tro hugahaze.
E'i zanku tagra uramita ke'zmi eri svari hamnenke'za, zamagra zamageru ruzanku havia hanaze.
Anage nehuno Ra Anumzamo zamazeri fragu vazige'za kumazimi tro huvga ore'za atre'za hakare'a mopare vu'za e'za hu'za umani'naze.
Ana hu'nea agafare Babelie hu'za hu'naze. Na'ankure Ra Anumzamo ama mopafi zamageru zamazeri havia huteno, hakare moparega Ra Anumzamo zamazeri atrege'za vu'za e'za hu'naze.
Source: The New Testament and Shorter Old Testament in Kamano.
Contributed by Wolfgang Kuhl
Kamono is a Papuan language spoken in Eastern Highlands Province of Papua New Guinea.
More information about Kamono
http://en.wikipedia.org/wiki/Kamano_language
http://www.ethnologue.com/language/kbq
Tower of Babel in Trans-New Guinea languages
Amele, Awara, Barai, Bimin, Binumarien, Blagar, Borong, Burum-Mindik, Dadibi, Faiwol, Guhu-Samane, Huli, Kamasau, Kamono, Kamula, Kanasi, Kanite, Komba, Kosarek, Kosena, Kyaka, Maia, Maring, Narak, Ngaing, Numanggang, Samberigi, Siroi, Tairora, Tuma-Irumu, Waris, Waskia, Yipma, Yongkom
Other Tower of Babel translations
By language | By language family