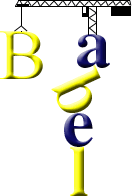 The Tower of Babel (Genesis 11: 1-9)
Kalenjin
Teekset ne koi ne bo Babel
King'alale ng'ony komugul kutit agenge ak ng'alalet agenge.
Ak ye kita kouuote kong'asis, konyor atebwet eng' emetab Sinar; ak kimeny oloto.
King'alaljigei anyun ichegei kole, Ong'eetye keyai matabaruk ak kebeel komie. Kiboisie matabaruk che kita koik, ak kiboisie lamit komale.
Ak kimwa kole, Obwa keteekyigei nganaset, ak keteech teekset age ne koi ne togostoi barak, ne itei kimonjogunnyi kipsengwetisiek, si keyaige keegu che toogunotin, si mata keyeste eng' ng'ony komugul.
Ak kichorgei Jehovah konyo kogeer nganaset ak teekset ne koi ne kitogosta kwo barak, ne kiteech werikab bik.
Ak kile Jehovah, Ogeero, agenge bichu, ak ko bo tugul kutit agenge; ak kagotoi koyai kiy ne u ni: ak mami kiy ne ranyei ichek si mayai kiy ne machei.
Ongebe, kechortege anyun, kitoiye kutuswekwak si mata kogasyin ichegei eng' ng'alalet.
Eng' noto anyun, koiyestaat Jehovah ichek koba eng' oloto agoi ng'ony komugul: ak kimeto teeksetab nganaset.
Kigiguure nga'nasanato Babel anyun, amu noto: amu kiitoiye Jehovah oloto kutuswek che bo ng'ony komugul; ak kiiyesta Jehovah ichek koba eng' oloto, koba ng'ony komugul.
Source: BUKUIT NE TILIL ne mi Arorutiet Ne Bo Keny ak Arorutiet Ne Leel. The Holy Bible in Kalenjin. The Bible Society of Kenya. Nairobi, 2003.
Contributed by Wolfgang Kuhl
The Kalenjin or Nandi languages are a group of closely related Southern Nilotic languages spoken in Kenya, eastern Uganda and northern Tanzania.
Information about Kalenjin
http://en.wikipedia.org/wiki/Kalenjin_languages
http://en.wikipedia.org/wiki/Nandi%E2%80%93Markweta_languages
http://www.ethnologue.com/language/kln
Tower of Babel in Nilo-Saharan languages
Acholi, Dholuo, Kalenjin, Kumam, Lango, Mbay, Ngambay, Nuer, Sar, Teso, Uduk, Zarma
Other Tower of Babel translations