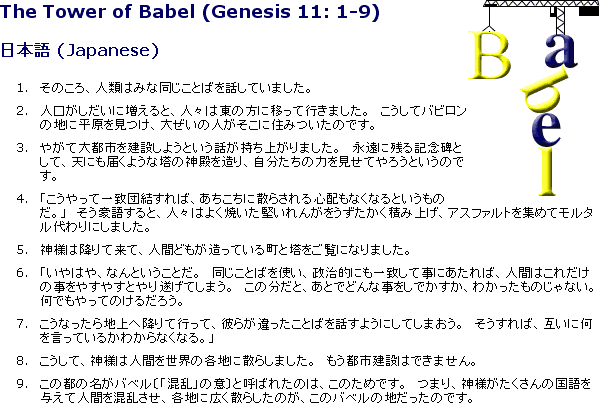 Rōmaji transliteration
Sono koro, jinrui wa mina onaji kotoba o hanashiteimashita.
Jinkō ga shidai ni fueru to, hitobito wa higashi no hō ni utsutteikimashita. Kōshite babiron no chi ni heigen o mitsuke, ōzei no hito ga soko ni sumitsuita no desu.
Yagate daitoshi o kensetsushiyō to iu hanashi ga mochiagarimashita. Eien ni nokoru kinenhi to shite, ten ni mo todokuyō na tō no shinden o tsukuri, jibuntachi no chikara o miseteyarō to iu no desu.
"Kō yatte itchi danketsusureba, achikochi ni chirasareru shinpai mo nakunaru to iu mono da." Sō gōgo suru to, hitobito wa yoku yaita katai renga o uzutakaku tsumiage, asufaruto o atsumete morutaru kawari ni shimashita.
Kamisama wa oritekite, ningendomo ga tsukutteiru machi to tō o goran ni narimashita.
"Iyahaya, nan to iu koto da. Onaji kotoba o tsukai, seijiteki ni mo itchi shite koto ni atareba, ningen wa kore dake no koto o yasuyasu to yari togeteshimau. Kono bun dato, atode donna koto o shidekasuka, wakatta mono ja nai. Nan demo yatte nokeru darō.
Kōnattara chijō e oriteitte, karera ga chigatta kotoba o hanasu yō ni shiteshimaō. Sō sureba, tagai ni nani o itte iru ka wakaranakunaru."
Kō shite, Kamisama wa ningen o sekai no kakuchi ni chirashimashita. Mō toshi kensetsu wa dekimasen.
Kono tō no na ga baberu ("konran" no i) to yobareta no wa, kono tame desu. Tsumari, Kamisama ga takusan no kokugo o ataete ningen o konran sase, kakuchi ni hiroku chirashita no ga, kono baberu no chi datta no desu.