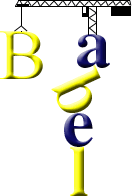 The Tower of Babel (Genesis 11: 1-9)
Меджусловјански / Medžuslovjanski (Interslavic)
Věža Babelja
I vsja zemja iměla jedin język i podobne slova.
Ale kògda ljudi prěměstili sę iz vzhoda, oni našli råvninų v kraji Šinar i onde osadili sę.
I oni govorili jedin k drugomu: «Hodite, izdělajmo cegliny i dobro palimo ih!» I cegliny služili im kako kameni, a smola služila im kako cement.
I oni govorili: «Hodite, budujmo gråd i věžų, ktora bųde dosęgati do neba, i izdělajmo sobě imę, že byhmo ne råzsypali sę po cěloj zemji.»
Tògda Bog je sòšel v dol, že by uviděl gråd i věžų, ktore děti ljudij budovali.
I Bog govoril: «Vidite! Jedin narod i jedin język za vsěh, a vidi, čto oni načęli sųt dělati. I nyně, ničto ne bųde za nih nemožlivo, čto oni ne htěli by sdělati.
Vidite! Sòjdimo i råzměšimo im język, že by oni ne råzuměli sę jedin drugogo.»
I Bog je råzsypal ih na po cěloj zemji, a oni sųt prěstali budovati gråd.
Za to on nazyvaje sę Babeľ, za to že onde Bog je råzměšil język cěloj zemje i odtųd Bog je råzsypal ih po cěloj zemji.
Вежа Бабельа
И всьа земја имела једин језык и подобне слова.
Але когда льуди преместили се из взхода, они нашли равнину в краји Шинар и онде осадили се.
И они говорили једин к другому: «Ходите, изделајмо цеглины и добро палимо их!» И цеглины служили им како камени, а смола служила им како цемент.
И они говорили: «Ходите, будујмо град и вежу, ктора буде досегати до неба, и изделајмо собе име, же быхмо не разсыпали се по целој земји.»
Тогда Бог је сошел в дол, же бы увидел град и вежу, кторе дети льудиј будовали.
И Бог говорил: «Видите! Једин народ и једин језык за всех, а види, что они начели сут делати. И ныне, ничто не буде за них неможливо, что они не хтели бы сделати.
Видите! Сојдимо и размешимо им језык, же бы они не разумели се једин другого.»
И Бог је разсыпал их на по целој земји, а они сут престали будовати град.
За то он называје се Бабель, за то же онде Бог је размешил језык целој земје и одтуд Бог је разсыпал их по целој земји.
Source: http://steen.free.fr/interslavic/babel_text.html
Contributed by Wolfgang Kuhl
Information about Interslavic | Interslavic numbers | Tower of Babel in Interslavic
The Tower of Babel in International Auxiliary Languages (IALS)
Esperanto, Folkspraak, Ido, Interglossa, Interlingua, Interlingue/Occidental, Interslavic, Lingua Franca Nova, Lojban, Romániço
Other Tower of Babel translations
By language | By language family