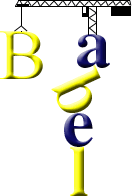 The Tower of Babel (Genesis 11: 1-9)
Dholuo (Luo)
Kendo piny duto nobedo gi dhok achiel, gi wuoyo achiel.
Kendo notimore, ka ne giwuotho e pinje mar wuok chieng', ne giyudo pap moro e piny mar Shinar; mi ne gidak kanyo.
Kendo ne giwacho ng'ato gi ng'ato niya, Biuru, walos matofali kendo wang'gi maber. Ne gibedo gi matofali e kar kite, kod lowo e kar chokaa.
Kendo ne giwacho, Biuru, wageruru pacho, kod ohinga, ma wiye nochwe e polo, kendo mondo walos ni wawegi nying'; dipo kokea e wang' piny duto.
Kendo Jehova nolor mondo one pacho kod ohinga, ma nyithind ji nogero.
Mi Jehova nowacho, Ne, gin oganda achiel, kendo giduto gibedo gi dhok achiel; to ma e gi ma gichako timo: kendo kore ongo gi mitamogie, ma giseketo chunygi mondo gitim.
Bi, mondo walor, waketh dhogi, ni kik giwinjre ng'ato gi ng'ato.
Kamano Jehova nokeyogi a kanyo e wang' piny duto; kendo ne giweyo gero pacho.
E momiyo noluongo nyinge ni Babel; nikech kanyo Jehova noketho dhok mar piny duto; kendo Jehova nokeyogi a kanyo e wang' piny duto.
Source: Muma Maler Mar Nyasaye moting'o Muma Machon kod Muma Manyien. The Bible in Luo. The Bible Society of Kenya. Nairobi, 1995.
Contributed by Wolfgang Kuhl
Information about Dholuo | Tower of Babel
Tower of Babel in Nilo-Saharan languages
Acholi, Dholuo, Kalenjin, Kumam, Lango, Mbay, Ngambay, Nuer, Sar, Teso, Uduk, Zarma
Other Tower of Babel translations