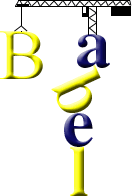 The Tower of Babel (Genesis 11: 1-9)
Cañar Highland Quechua
Babel torreta shayachishcamanta
Cai pachapi causaccunaca shuclla rimaitami rimac carca.
Inti llucshina llactamanta llucshishpaca, Sinar llactapimi shuc jatun pambata tarishpa, chaipi causai callarirca.
Paicuna yuyarinacushpaca: «Jacuchic, ladrillota ruhuashpa, ninapi cusashunchic» ninacurca. Chashnami paicunaca rumipac randica ladrillohuan, turupac randica asfaltohuan ruhuarca.
Chai quipaca: «Cunanca, shuc pueblotapish, jahua pachaman alto shuc torretapish chayachingapac jacuchic. Shina ruhuashpami, mana caita chaita rishpa, cai pachapica tucui gentecunapac alli nishca causashun» ninacurca.
Chaimantami Mandac Diosca runacuna ruhuacuc pueblotapish, jatun torretapish ricungapac urai shamurca.
Mandac Diosca: «Paicunaca shuc shinalla tucushpami shuc rimaillata charincuna. Chaimantami caita ruhuanata callarishca. Cai ruhuaitaca imapish mana jarcai pudingachu.
Cunanca, paicunapac rimaita chican chicanta ruhuangapac urai rishunchic. Shina ruhuacpimi, caishuc chaishuc imata rimacushcata mana entendingacuna» nirca.
Chashnami Mandac Diosca paicunata cai pachapi caita chaita cachashpa, chai llactata ruhuanata saquichirca.
Mandac Diosca paicunapac rimaita chican chicanta ruhuashpami, chai llactataca Babelta shutichirca. Chai llactamantami tucui cai pachata shic-huarishpa causagrirca.
Source: Dios Rimashcata Quillcashcami. Texto Bíblia en Quichua Cañar. Sociedades Bíblicas Unidas, 2010.
Contributed by Wolfgang Kuhl
Cañar Highland Quechua, or Quichua Cañar, is a Quechuan language spoken in the southern higlands of Cañar province in Ecuador by about 100,000 people.
More information about Cañar Highland Quechua
http://archive.ethnologue.com/15/show_language.asp?code=qxr
http://en.wikipedia.org/wiki/Kichwa_language
Tower of Babel in Quechuan Languages
Ayacucho Quechua, Cañar Highland Quechua, Cusco Quechua, Kichwa, Quechua del Huallaga, Quichua del Chimborazo, South Bolivian Quechua
Other Tower of Babel translations
By language | By language family