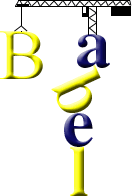 The Tower of Babel (Genesis 11: 1-9)
A translation of the Tower of Babel story in Aleut (Unangam tunuu/umsuu), an Eskimo language spoken in Alaska and Sibera.
Tax huzuu tanam ataqan tunuum ama liidax̂ tunun.
Ama anĝaĝinam Qagaa hadaax, ukukus tanaa Sxinarim ama tigikux̂ agaax̂
Ama hiĝakus agiicha, "Haqax̂tal, tanam ulaan tingin aguunil, ama ataĝul." Ama tanam ulaan chumliisikus, ama agiicha.
Tamaan hiĝakus, "Haqax̂tal, tanadgusiigamax tingin aguunil as kangan inkam, ama asaasal tingin aguunil, chisakus alixs sagimaĝix̂ huzuu tanam."
Ama Aguuĝum kimikux̂ ukux̂takux̂ tanadgusiigamam, qanang tayaĝurum agukux̂.
Ama aguuĝum hiĝakux̂, "suĝtal, Anĝaĝinakus, ama huzungin ataqan tunuum, ama akux̂ aguqam malgakus. Ama anaĝitalakan akix̂taasakus hamamaasalagakux̂ tixchis matakus.
Haqaĝtal, tingin utikus ama tunuu hix̂sachx̂ilagada, ataqan agiicha aadazakux̂ tutalagakus
Aguuĝum chisakux̂ sagimaĝim huzuungin tanam, ama tingin aĝiilakus tanadgusilĝum agul.
Asaa Babiilal, Aguuĝum hamamaasalagada tunuum huzuu tanam. Ama Aguuĝum chisaa alixsa sagimaĝim huzuungis tanam.
Information about Aleut | Aleut phrases | Tower of Babel in Aleut
Tower of Babel in Eskimo-Aleut languages
Aleut, Greenlandic, Inuktitut, Yup'ik
Other Tower of Babel translations
By language | By language family